Control your Pace to Win the Shirt!
Control your Pace to Win the Shirt!
Play VRun Game for FREE Anytime, Anywhere in the world on your Garmin watch!
Just click on the button below to Play Now for FREE!
---
Competing is FREE, just click register to play VRUN GAME.
We'll award a monthly winners shirt for the best score!
Remember, it's not the fastest that wins, it's the runner with the most consistent pace.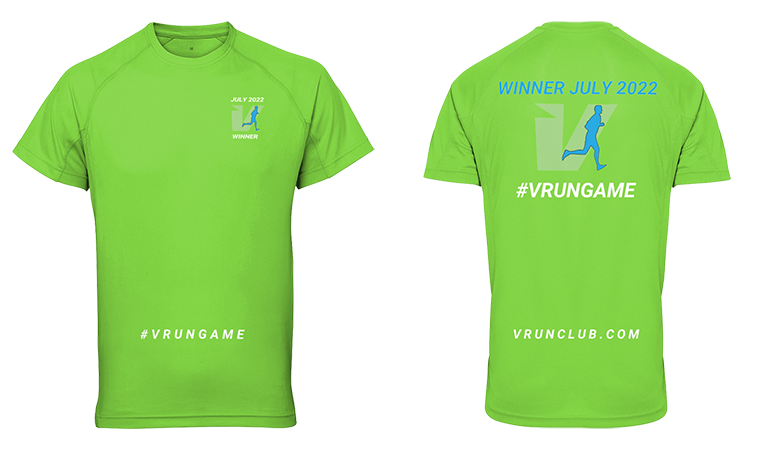 ---
VRun Game is a great way to Improve your Running and have fun at the same time. It's totally FREE and all you need is a Garmin watch to monitor your run whilst playing. The great thing about VRun Game is runner with the best pace control wins, not the fastest. This means anyone with good consistency can win! Play as often and at any pace you want to. Play for fun or if you're training for an event, this is a great way to practice and perfect your race pace!

---
Just connect your Garmin to the VRun app, and select the day you want to play. We'll then schedule your Game on your Garmin Calendar. Once you've sync'd your watch to Garmin, the Game will appear on the selected day, once you selct RUN. On older watches it will be in TRAINING > CALENDAR on your watch. Hit start and follow the instructions.

---
Once you've hit start on you watch, you'll be given time to warm up and then do some run drills and mobility to loosen up. Then you'll get time to practice your pace control, before attempting to control your pace for 3 challenges lasting 4 minutes each. You'll get plenty of rest in between and the whole thing approx. 45 minutes. Once you've saved and Sync'd your watch, your VRun Game score will appear on our leaderboard above. How high can you score...?

---
Need to Schedule a new Game to your Garmin Calendar?
---